Wine Conditioning Units For Wine Cellars
Boasting the greatest selection of wine cooling units in the United Kingdom,
we offer a wide array of products for all your wine cellar needs.
Wine Conditioning Units are a must-have for any serious wine collector or enthusiast. By controlling the temperature of a wine cellar, these specialized units help maintain the quality and flavour of wines for years. With a wide range of units available from leading manufacturers, there is an option to suit any need and preference.
Monoblock wine conditioning offers a plethora of selections to fulfil diverse requirements, ranging from window frame to ceiling mounting models. This makes it an ideal selection for individuals searching for an effective method to condition their wine. The most widely used window mount installation model is the Winemaster C25 standard unit, followed by the C25S with its heating feature and the C25SR with heating and anti-frost functions. For ceiling mount, the Arm15 is the exclusive model available.
When it comes to installing wine conditioning units, there are different models to choose from; wall mount and freestanding. The WINEMASTER IN25 is a great option for wine cellars up to 25m3 and consists of two connection pipes that run from the inside of the cellar to the outside. This wine cellar air conditioning unit not only cools the area but also helps to transform an insulated room into a true wine cellar or wine room.
For moderate-sized cellars up to 50m3, the WINEMASTER IN50 is the optimal choice. Boasting one of the quietest conditioning units on the market, it offers a 30% decrease in energy consumption when compared to other standard air conditioners.
Split wine conditioning units come equipped with a variety of advanced features that help to construct an ideal wine cellar. This two-part unit is comprised of an evaporator located inside the cellar and a condensing unit mounted on an external wall or ground, hidden away by fencing or trellis. A small pair of copper pipes is then used to connect these two components.
The WineMaster SP100 is a free-standing unit that rests on the floor and is able to cool up to 100 cubic meter cellars. This system requires only a standard 13 amp power outlet for use. The WineMaster SP40 PRO has three different versions: CA (cabinet), CE (ceiling), and DU (ducting). This model is capable of cooling up to 40 cubic meter cellars.
Our Freestanding Wine Room offers the ideal storage solution to showcase your wine collection while seamlessly integrating with your living space. The advanced insulation ensures minimal noise and enhanced energy efficiency while safeguarding your financial and sentimental investments in the wine collection.
Moreover, temperature and humidity levels remain constant with protection from ultra-violet light thanks to the lockable, especially glazed doors. The Room is supplied with racking and LED lighting to ensure you can proudly display and enjoy your selection.
The Benefits of Having a Wine Conditioning Unit
A wine conditioning unit is essential for preserving and protecting your precious wine collection. Wine cooling systems can help keep your wines at the perfect temperature and humidity levels, which are crucial for optimal wine storage. With a cellar cooler specialist to assess your individual requirements and provide you with the right wine cooling system, you can be sure that your wines will remain at their peak quality for years to come.
Having a wine cooling system in your wine cellar also offers other benefits, such as energy efficiency and noise reduction. By using modern cellar cooling equipment, you can rest assured that your wine cellar will be kept at an ideal temperature without wasting energy or causing unnecessary noise pollution. This can give you the peace of mind that comes with knowing your wine collection is being properly cared for.
In addition, some wine cooling systems offer an auto-defrost feature, which prevents frost from forming on the unit's cooling coils. This allows the wine cellar to remain at the desired temperature without having to manually clean or maintain it.
Overall, having a wine conditioning system installed by a specialist is essential for protecting your precious wines from spoilage, maintaining the optimal temperature and humidity levels for optimal storage, and ensuring energy efficiency and noise reduction. If you are looking to invest in wine cellar cooling equipment, be sure to contact a qualified cellar cooler specialist who can help you find the best system for your needs.
We're always happy to help
It's all about professional service
The Different Types of Wine Conditioning Units
When it comes to selecting the perfect wine cooling system for your wine cellar, it is important to consider the different types of units available. There are several different types of wine conditioning units on the market, all offering different features and benefits. Some of the most common types of wine cooling systems include refrigeration systems, split systems, and evaporative cooling systems.
Refrigeration systems use a coolant, such as Freon, to cool the air in the wine cellar. These systems are typically installed in larger wine cellars, where they can provide consistent temperatures throughout. Refrigeration systems offer superior temperature and humidity control, making them the ideal choice for serious wine collectors.
Split systems are popular in smaller wine cellars and offer more flexibility when it comes to temperature and humidity control. This type of unit is typically made up of two separate units – one that is placed outside the cellar and one that is placed inside. This allows for easier installation and more precise temperature control.
Evaporative Cooling Systems:
Evaporative cooling systems use an evaporation process to cool air, rather than using a coolant like Freon. This type of system is more energy efficient and is better for the environment. They are best suited for smaller wine cellars, as they can be more difficult to install in larger ones.
We are Cellar Cooler Specialists:
When it comes to selecting and installing the right wine conditioning unit for your needs, it is important to work with a professional. Elextric Ltd is a specialist knowledgeable in all aspects of wine cellar cooling equipment and can help you find the perfect solution for your specific wine needs.
How to Choose the Right Wine Conditioning Unit
Choosing the right wine conditioning unit for your needs is an important decision. You want to make sure you get the best performance out of your wine cooling system, while also ensuring that it is properly installed and suited to your needs.
At Electric Ltd, our team of wine conditing unit specialists can help you determine what type of wine cellar cooling equipment is best for your home or commercial setting.
Here are some things to consider when selecting the right unit for your needs:
1.

Temperature Requirements:

Make sure you know exactly what temperature range you need for your wine cellar. Different types of wine benefit from different temperature ranges, so it's important to pick a unit that can provide the ideal environment for your collection.
2.
Size
: The size of the unit you choose will be determined by the size of your wine cellar and the volume of bottles you plan to store. Make sure to measure your wine cellar space carefully before choosing a unit.
3.

Noise Level

: Depending on where you plan to install your wine conditioning unit, noise levels can be a major factor. If your wine cellar is located in a living area, it's important to make sure the unit is quiet enough not to disturb your daily routine.
4.

Efficiency

: Different units have different levels of energy efficiency, so make sure to consider the cost of running the unit over time before making a final decision.
By taking all of these factors into account, you can ensure that you get the perfect wine conditioning unit for your needs. With Electric Ltd's expertise in wine cooling systems, you can be sure that you get the best product for your cellar.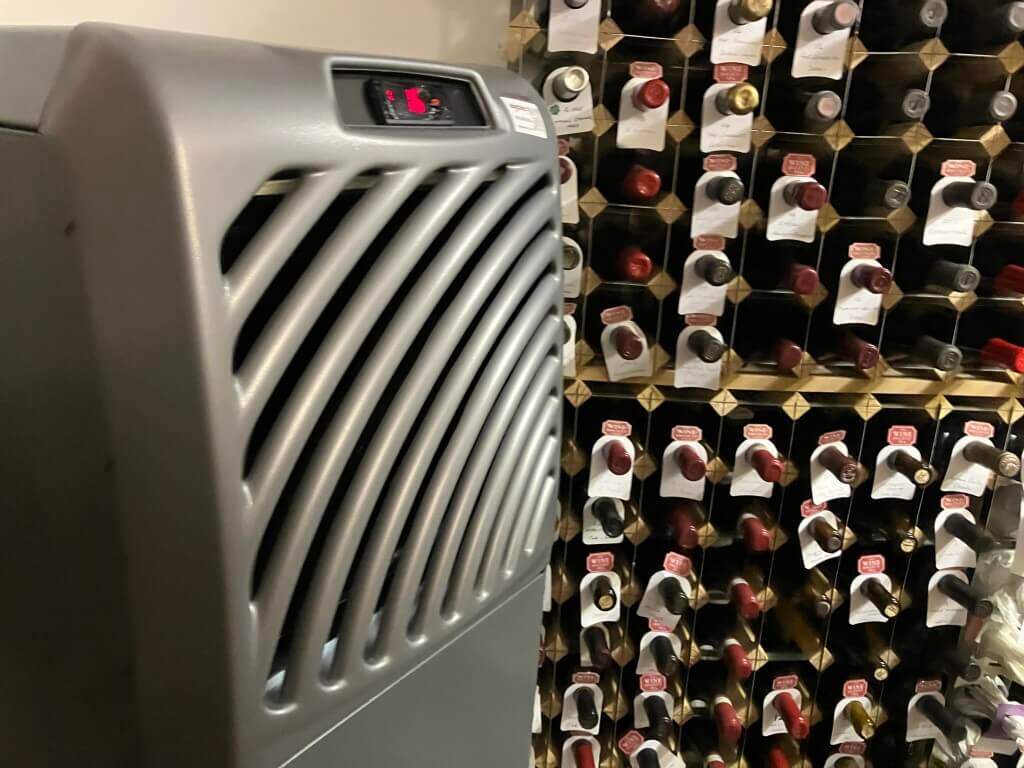 When it comes to installing a wine cooling system in your home, you should always rely on the experts. At Electric Ltd, our cellar cooler specialists are experienced and highly trained in installing wine cellar cooling equipment. They can assess your needs and provide you with a tailored solution that meets all of your requirements.
We provide installation services for a wide range of wine cooling systems from leading manufacturers. Our engineers will ensure that your equipment is installed correctly and safely, so that you can rest assured that your wine is kept at the ideal temperature. We also provide detailed instructions on how to use and maintain your wine cooling system, so that you can enjoy your collection for many years to come.
If you're looking for a reliable and experienced wine conditioning unit installer, contact Electric Ltd today. Our cellar cooler specialists will ensure that your equipment is installed correctly so that you can start enjoying the perfect temperature for your wines.
We're always happy to help
At Elextric ltd we have the accreditations, expertise, personnel and insurance in place to satisfy all levels of domestic, and commercial electrics and refrigeration installations.
Site Survey
Increase your chances of success and the perfect wine storage solution for your collections. Arranging for one of our engineers to visit your location for a face-to-face consultation is the best way possible for you to receive qualified and experienced advice.
Here, you win with Elextric. We have the widest range of wine cellar equipment in the UK which can often provide a choice of conditioning solutions for your particular needs; anything from an understairs cupboard to a cave underneath a castle!
When you confirm an equipment order with us, you will receive a 50% refund of your consultation fee.